Presenting your work at the ISNI is an important part of your career. You will get the opportunity to share your work and get feedback not only from your peers but also from the biggest names in the field of Neuroimmunology. You will get the chance to present either as a Poster or as an Oral Presentation. Please visit –> for more information.
Bring your smartphone or tablet to the 16th ISNI congress in order to stay updated. The official congress APP will give you the latest update live you will also have information about the speakers and sessions at your hands all the time. The APP will also feature all the abstracts, so while listening to an Oral Presentation or roaming the Poster area you can easily find the abstract on the APP.
If you would like to connect with a participant (if available) or with a sponsor, this can be done with the APP. You can even give us feedback on what you would like more of or different for the next congress. Remember #WeAreNeuroimmunology and so are you.
Upon registration at the venue, you will receive your name badge. You are kindly requested to wear your badge during all congress activities. In case you lose your badge, please ask for a duplicate at the congress secretariat desk.
//CERTIFICATE OF ATTENDANCE
Certificate of attendance will be sent by email after the congress and upon having filled in the online Quality Survey.
For sponsored groups and individuals: Please note that in order to provide the certificate of attendance to each participant, we will need the personal e-mail address.
The average temperature in Quebec City in August is 14° – 24° Celsius / 57.2° – 75.2° Fahrenheit.
Informal clothing for all occasions.
CENTRÉ DES CONGRÉS QUÉBEC
1000 Bd René-Lévesque
QC G1R 5T8
Canada
Located in the quadrilateral formed by rue Saint-Joachim, rue Jean-Jacques-Bertrand, boulevard René-Lévesque Est and avenue Honoré-Mercier, the Center has its main entrance at 1000, boulevard René-Lévesque Est, in the heart of downtown, where visitors are welcomed. The Québec City Convention Center devotes a specific entry to each current event; there are 3 in total. It is located on Parliament Hill and is connected by underground tunnels to the Parliament of Quebec and two hotels (Hilton and Delta).
The currency in Quebec City is Canadian Dollar (CA$).
We do accept cash payments or credit cards on-site.
Credit cards are accepted for taxis, restaurants, and shops in Quebec City. You will also have easy access to ATMs.
In Canada, they use 120 Volt/ 60 Hz and a three-pin plug (see picture below)
.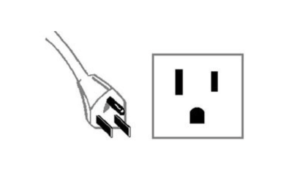 //EMERGENCY PHONE NUMBERS
In case of an emergency please call 911.
Please be aware that photos and video recordings may be taken during the congress. By participating you consent to the publication, release, exhibition, and reproduction of such photos to be used for the ISNI website and its social media.
The congress organizer, EEM Srl, and the International Society of Neuroimmunology (ISNI), are not liable for personal accidents or loss/damage to private property of participants, either during or indirectly arising from the 16th ISNI Congress. It is recommended that all participants are covered by personal travel insurance.
English is the official language of the Congress. No simultaneous translation will be provided.
For lost of found objects, please contact the congress secretariat desk. See opening hours above.
For lost of found objects, please contact the congress secretariat desk. See opening hours above.
Please contact the secrtariat desk.
Please bring your smart phone to follow the information on the APP.
Mobile phones must be switched off while attending a session.
Programs will not be printed, you will have an APP with the program available. Please remember to print the program at home if you would like it in paper format.
The program can be downloaded here tbd
//SECRETARIAT OPENING HOURS
Saturday August 19: 2:00pm – 5:00pm
Sunday August 20: 7:00am – 6:00pm
Monday August 21: 7:00am – 8:00pm
Tuesday August 22: 8:00am – 8:00pm
Wednesday August 23: 8:00am – 8:00pm
Thursday August 23: 8:00am – 8:00pm
Friday August 24: 8:00am – 4:00pm
If you have any special needs or disabilities, please let the organizing secretariat (secretariat@isniweb.org) know when registering for the congress.